Earpieces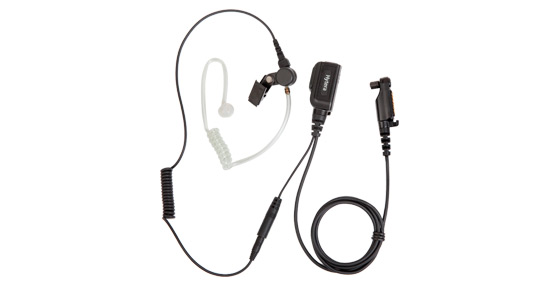 With our new earpieces, take advantage of the latest in radio technology for an affordable price. We have 1-wire and 2-wire earpieces available, and both come complete with a host of unique features.
Above all else you can expect quality when you order products from us, and these kits are no exception.
Browse our complete selection below and request a quote today for pricing information. Contact us to learn more about any of our products!
| | |
| --- | --- |
| EAN22 | PD6/X1 Earpiece with acoustic tube and detachable In-line PTT |
| EAN23 | PD7 Earpiece with acoustic tube and detachable In-line PTT |
| EHN17 | 3-Wire Earpiece with Acoustic Tube, Microphone and PTT (Beige) |
| EHS16 | PD362 C-EARPIECE |
| EHW02 | X1p/X1e Bluetooth Earpiece double button |
| ES02 | Earpiece with transparent tube (receive only) |
| ESW01-N1 | PD7 Wireless Earpiece Kit IP54 Dust and Water Protection Class, Bluetooth Audio with PTT |
| ESW01-N2 | PD6 Series Wireless Earpiece Kit IP54 Dust and Water Protection Class, Bluetooth Audio with PTT |
Request a quote
Call Us 718-998-6646